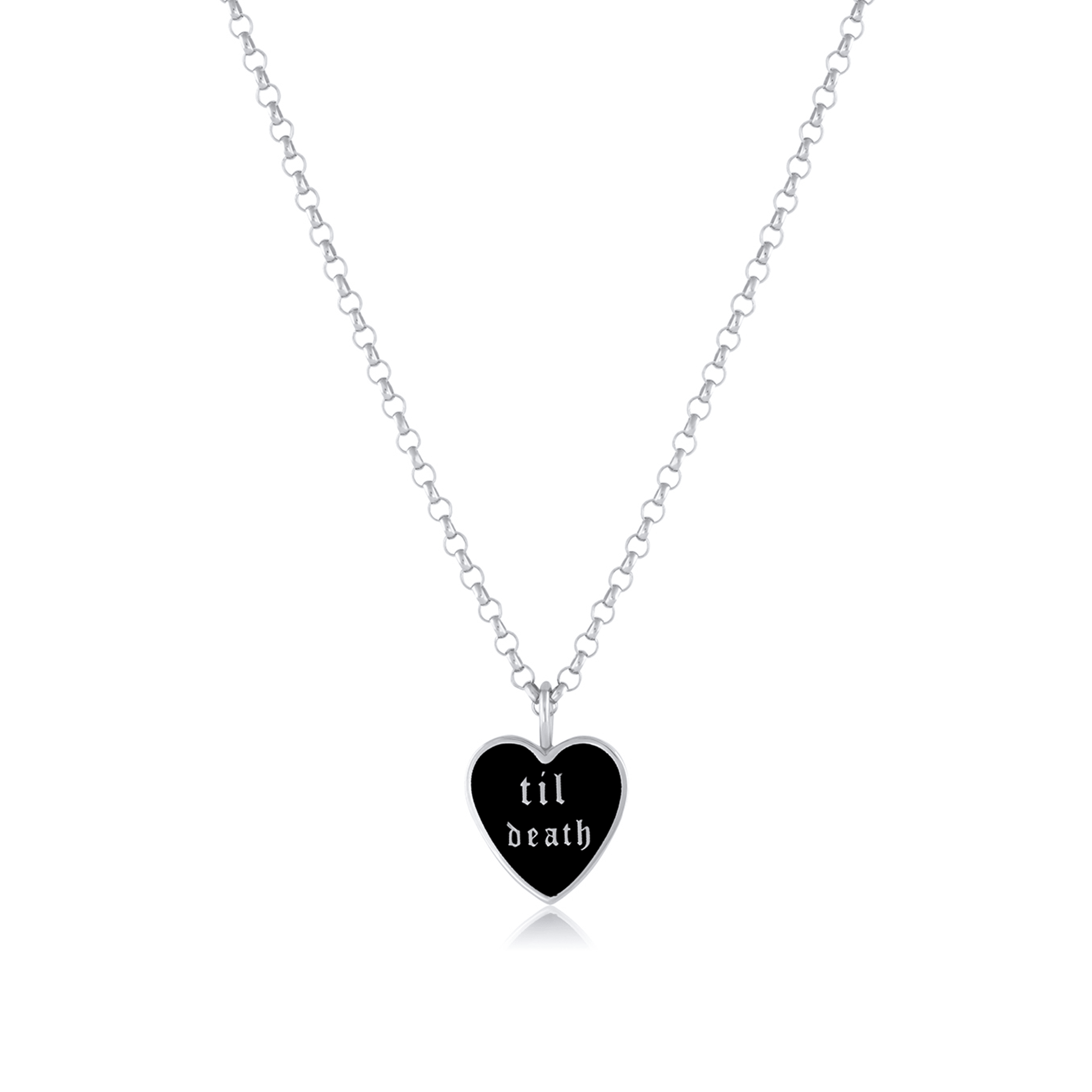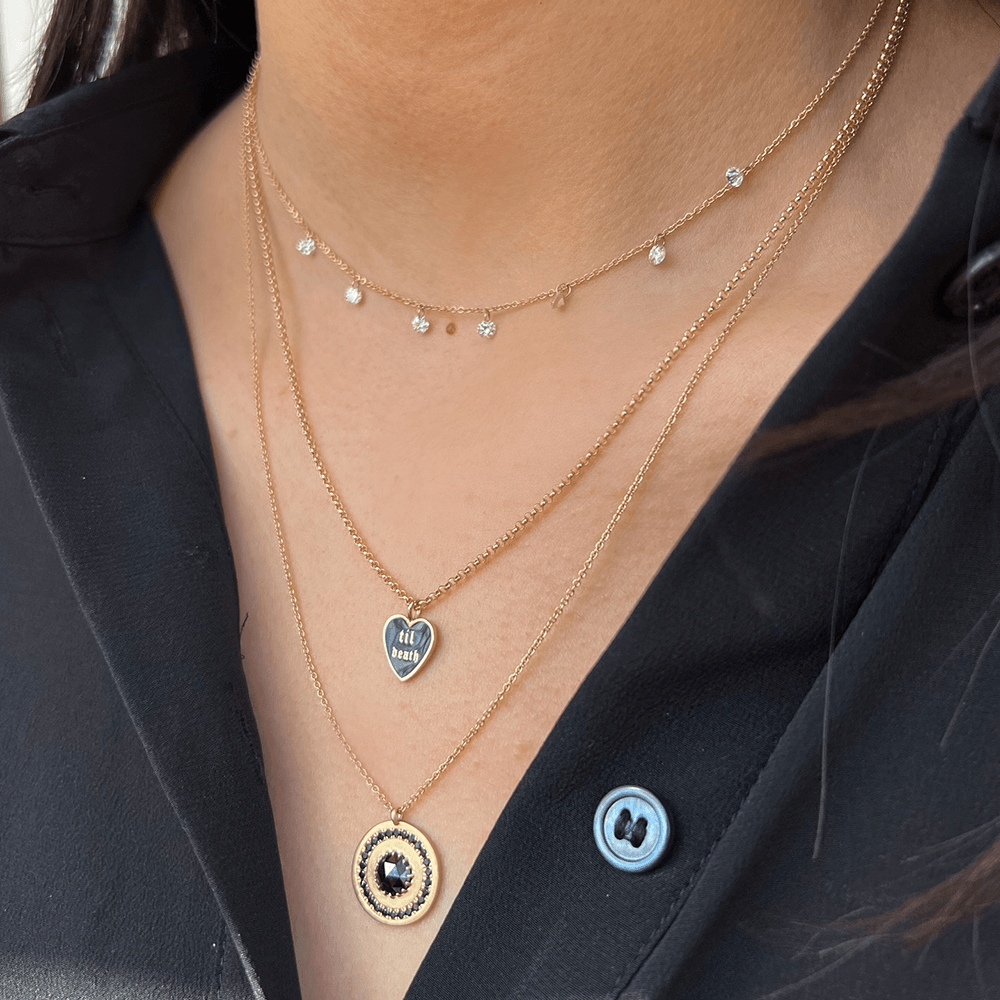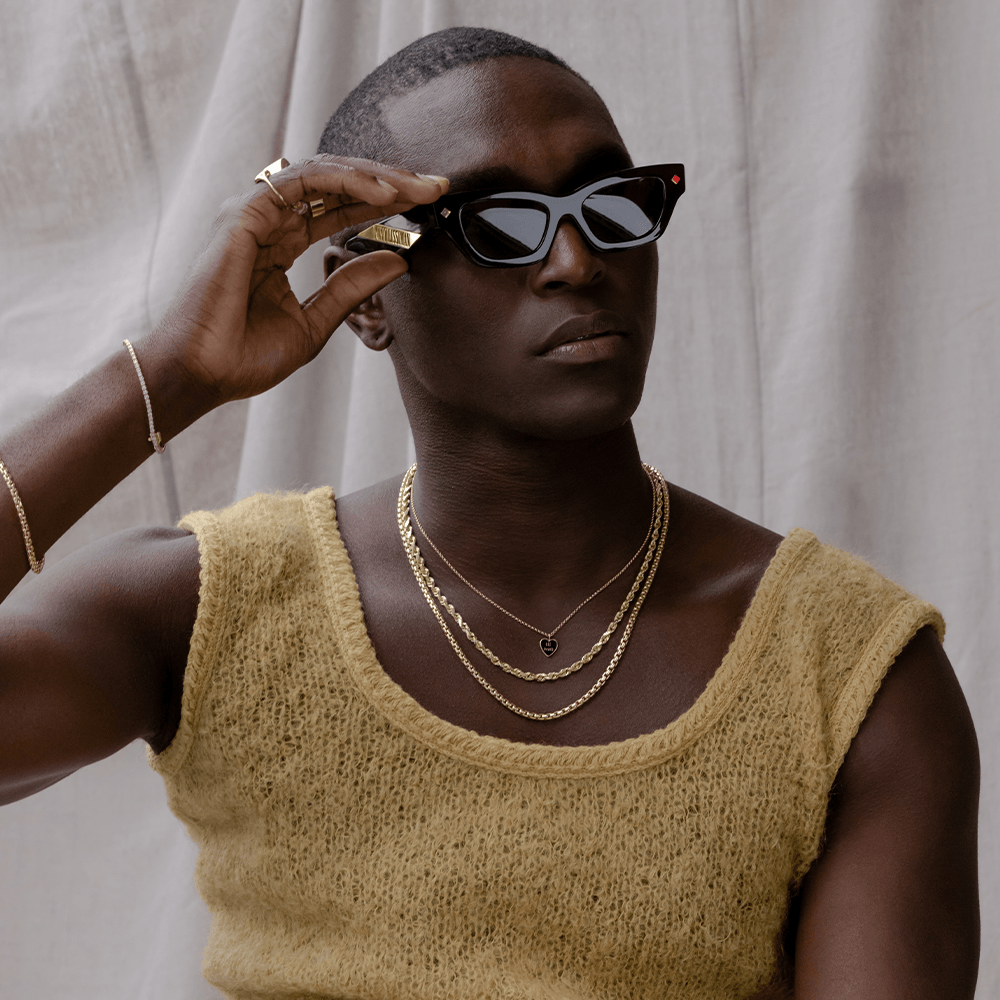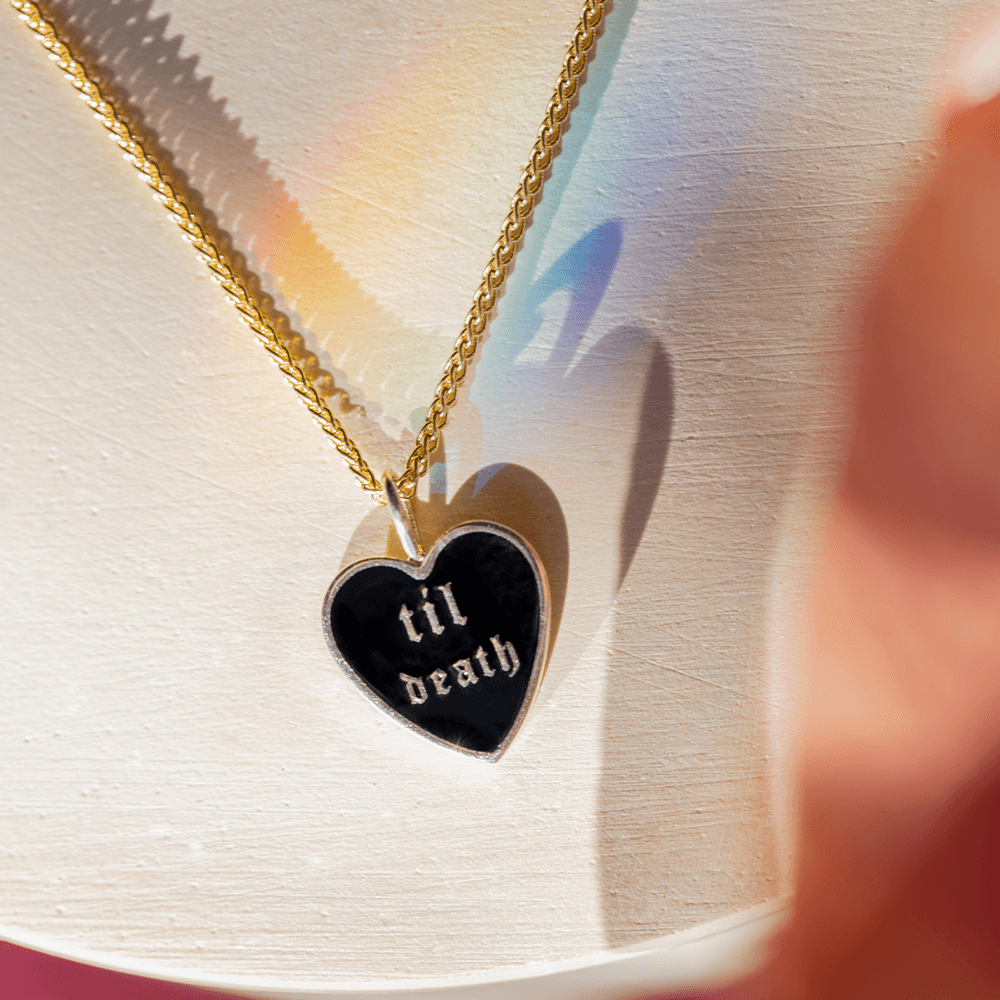 Jillian's Notes
"The perfect way to add a touch of adorable edginess to your neckline."
Jillian Sassone – Creative Director & Founder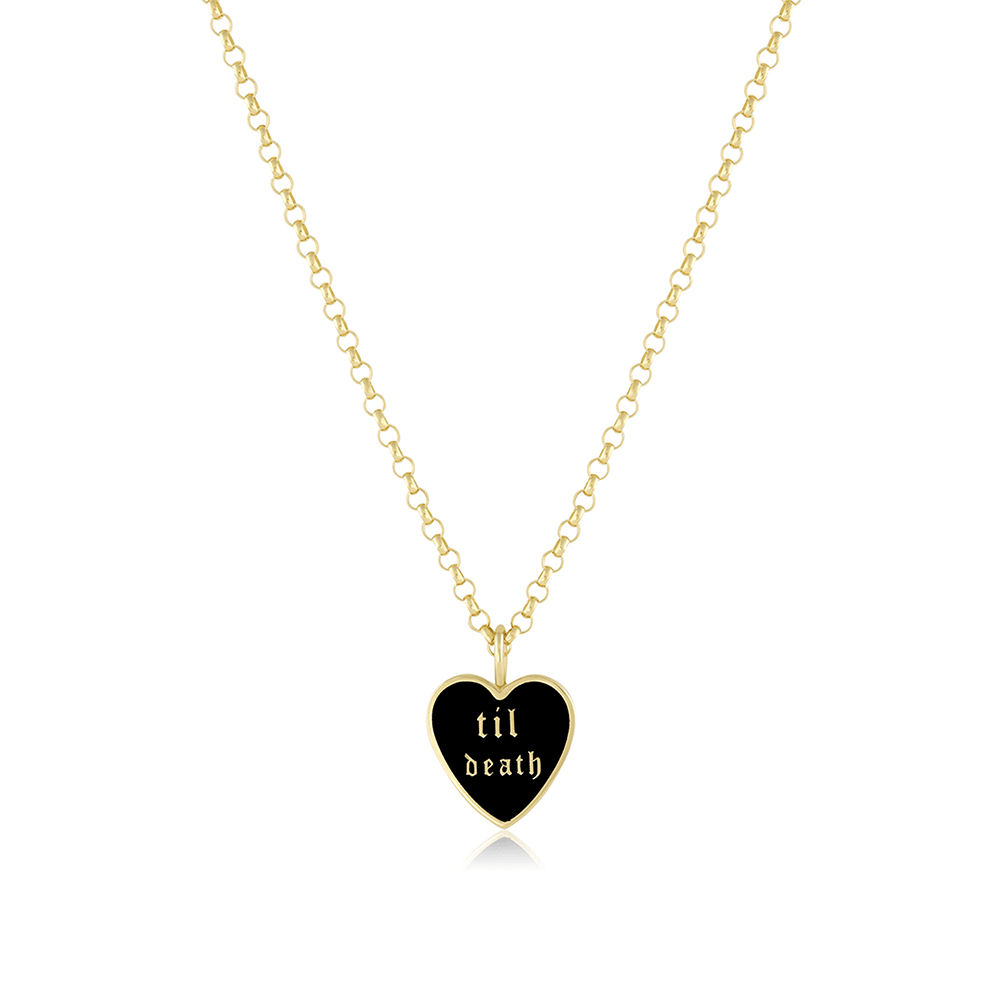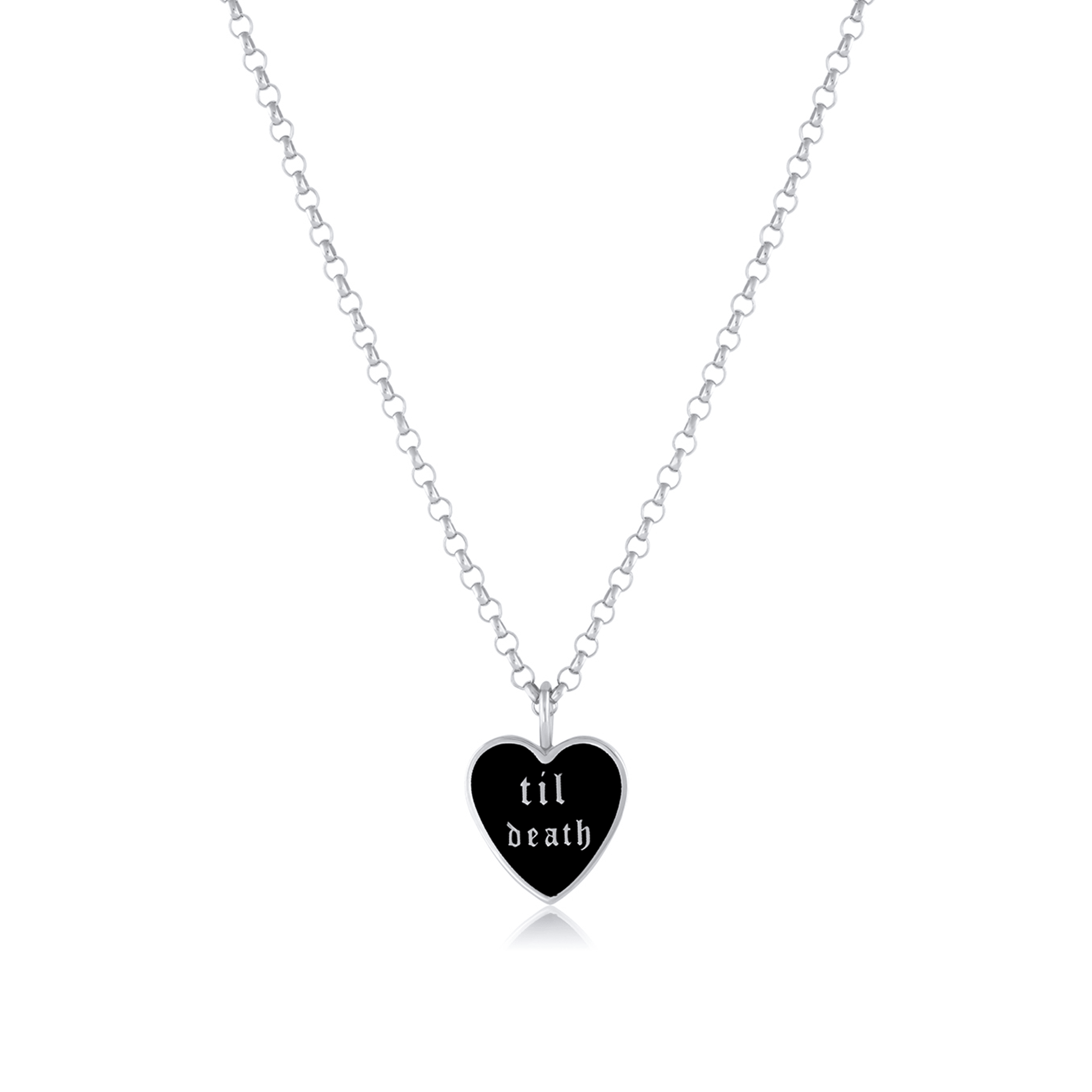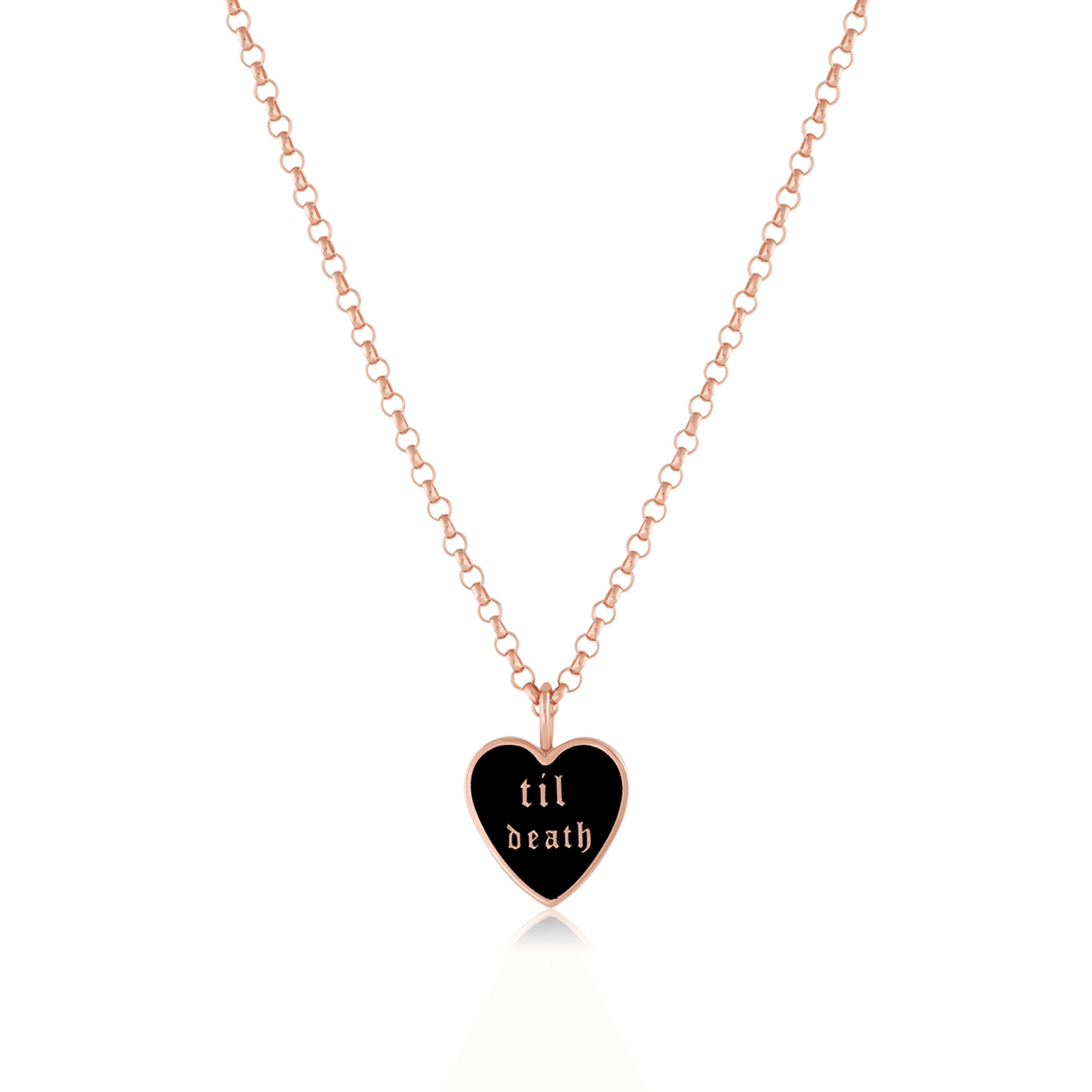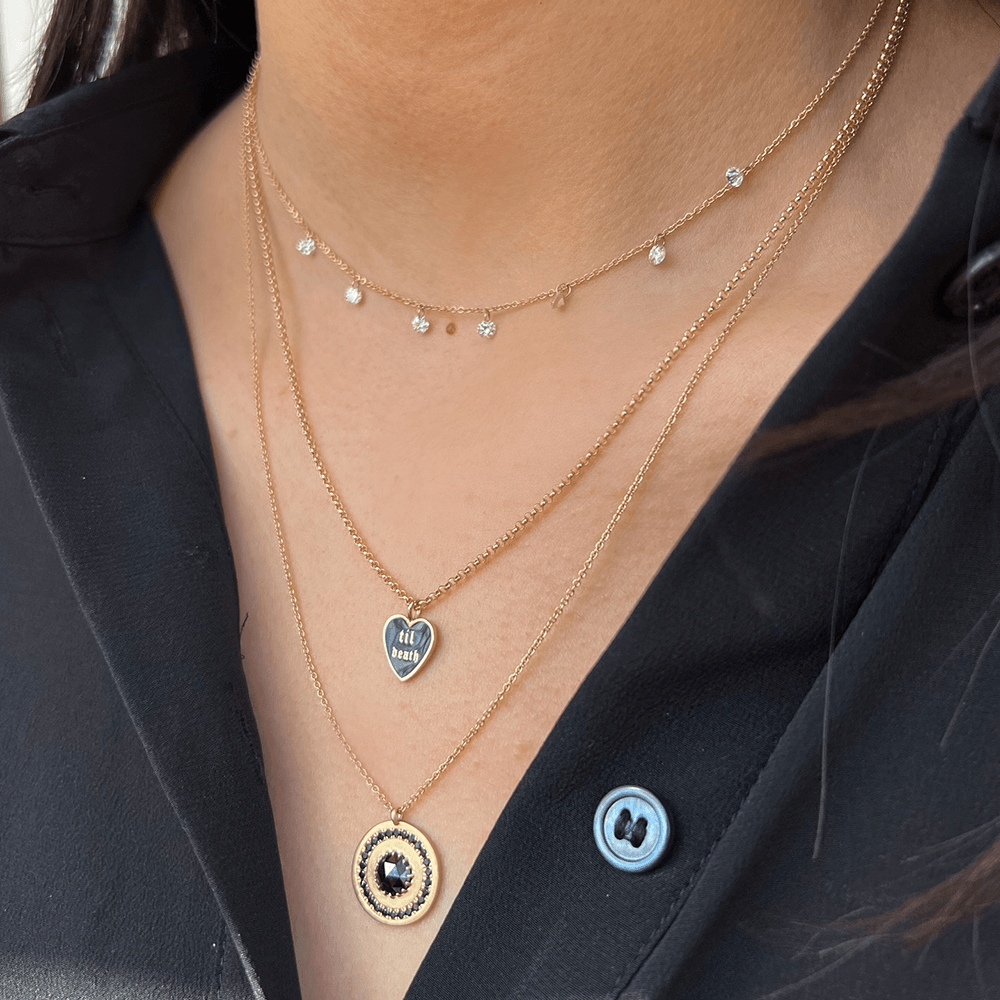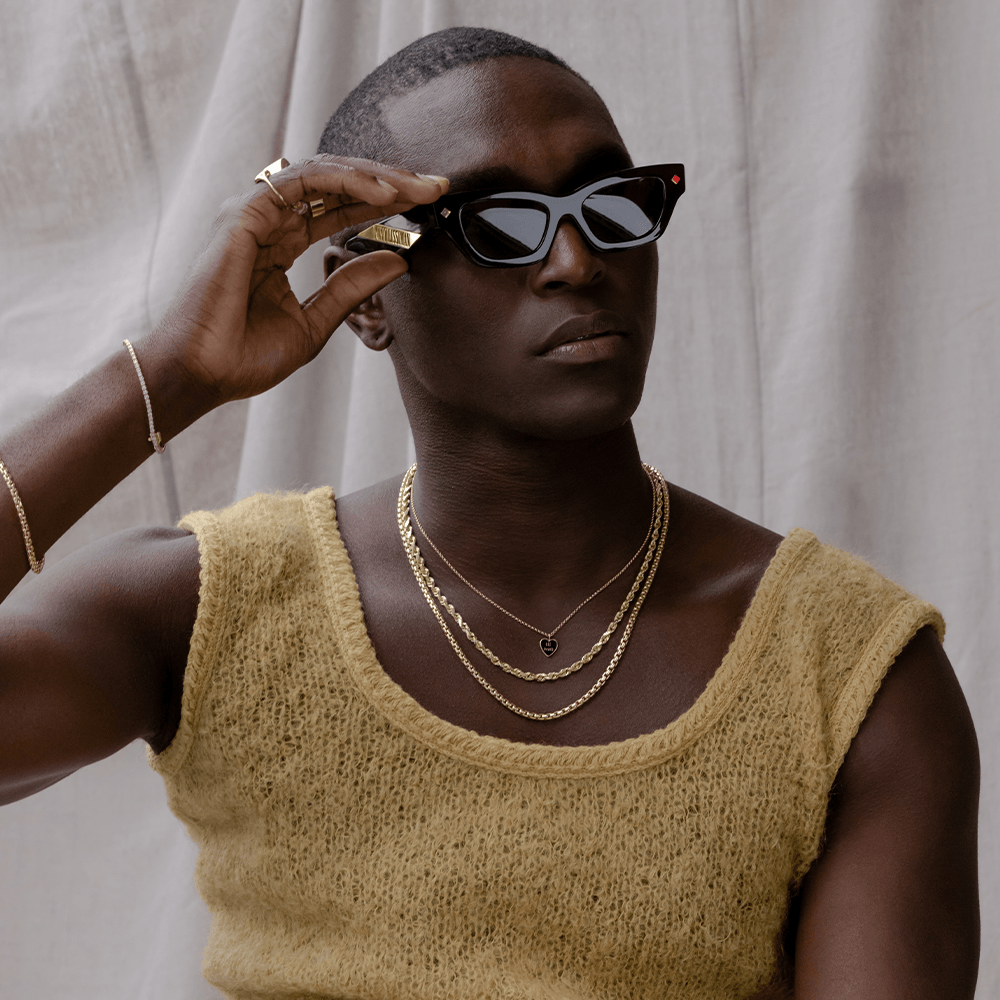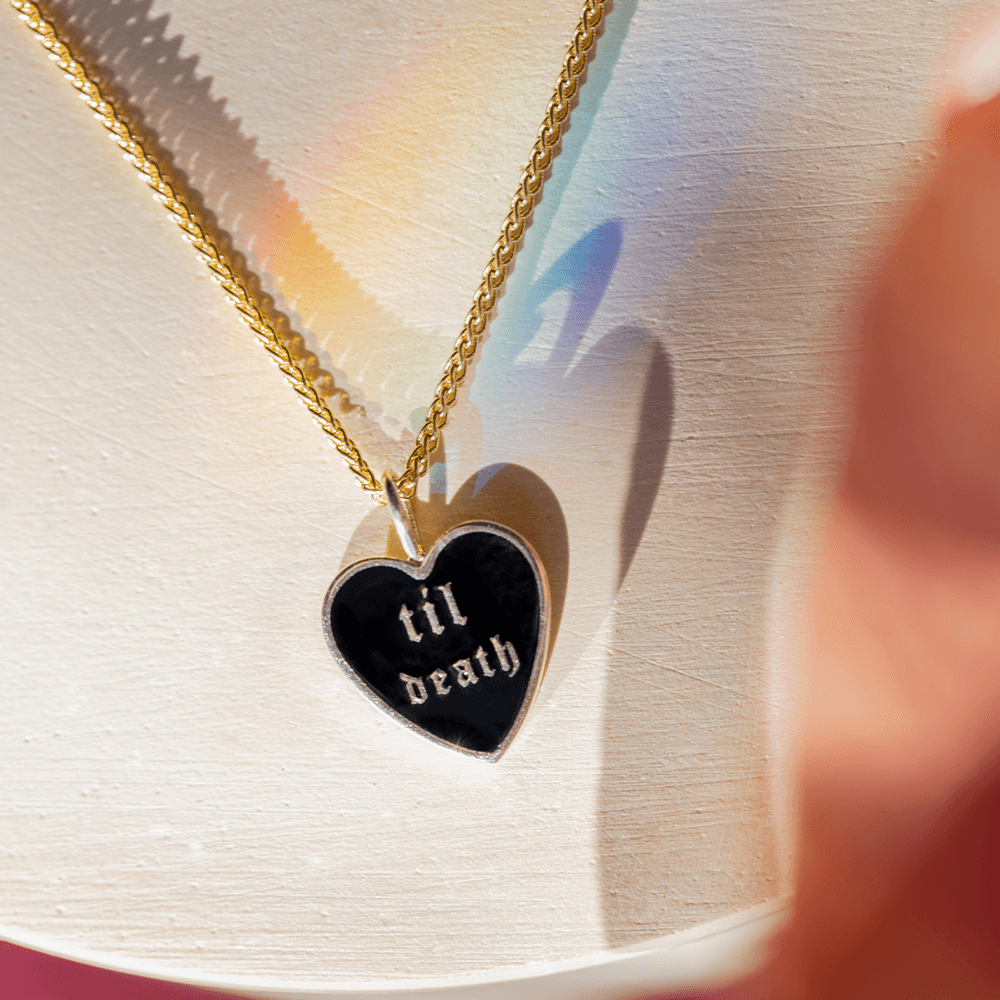 Til Death Enamel Pendant
Design
A play on our best-selling Til Death Band, this necklace features a black enamel heart that adds a touch of edge to the neckline. She's stunning solo, & looks even better paired with other layering necklaces in your collection. 
Available in 18k gold and platinum. Contact us for pricing.
Specs
18" chain
Enamel is delicate and should be treated like pearls. Lighter color enamel may fade or chip over time or aggressive wear. Avoid any chemicals while wearing enamel jewelry. Clean only with warm water, soap, and a soft cloth.
Complimentary 2-day shipping available at checkout. May be returned within 10 days for store credit, less any applicable shipping costs and a restocking fee. Marrow does not issue refunds.
Drop a hint
Love this piece? Email a little nudge, nudge, hint, hint.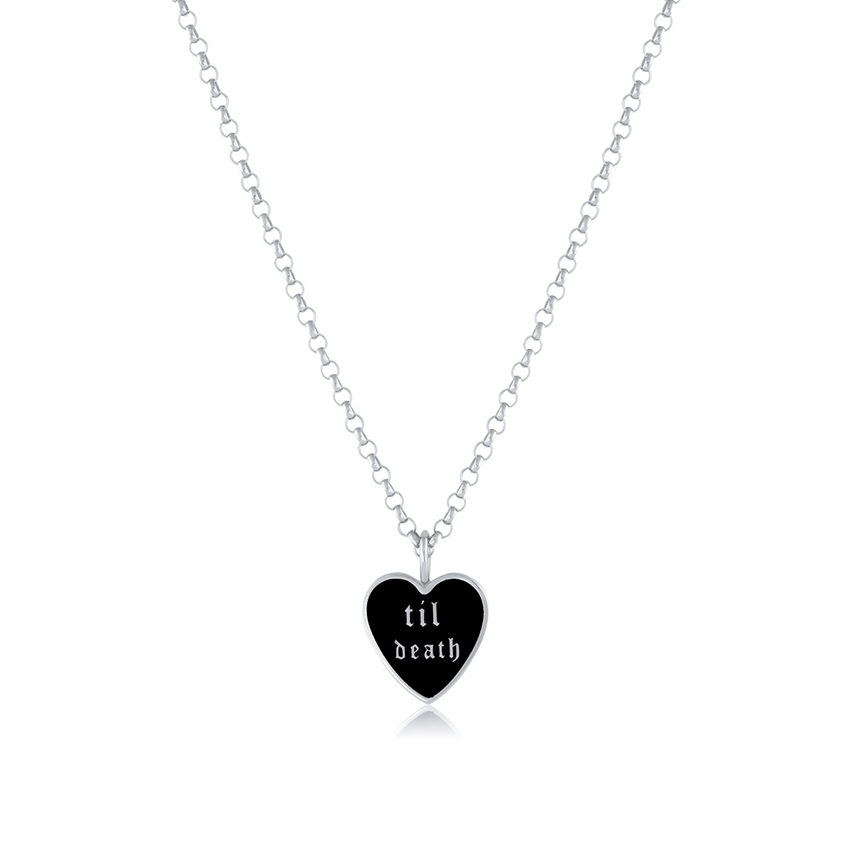 Til Death Enamel Pendant
$1,000
Hint Sent!
I worked with Marrow to pick out a new wedding stack after losing my wedding ring. I love Marrow's selection and style; there's nothing quite like it in the industry. Looking forward to working on a stack for my right hand now!
Mary K.
Feb. 2023
Marrow has been great to work with! We have been shopping from Marrow over the last two years and love their unique pieces.
Augustus W.
March 2023
Loved the experience I had! Have been searching for the perfect bands for a while and Marrow finally helped me find them!
Kayla V.
May 2023
Honestly, I have absolutely no words for how incredible Marrow Fine is. The detail, aesthetic and knowledge this showroom holds is truly one of a kind.
Kimberlee H.
June 2023
Highly recommend! Thanks to the marrow fine team for making the process so easy and helping us find the perfect rings!
Tim A.
June 2023
Last year I had the pleasure of purchasing my now wifes engagement ring with Marrow Fine and also recently purchased mine and my wifes wedding rings from them aswell. I found the staff on both occasions were incredibly knowledgeable and passionate, always ready to assist and guide you in finding the perfect piece that matches your style and preferences. They have a stunning collection, exceptional service, and exquisite attention to detail! Would definitely recommend!
Sam F.
July 2023
Had a great experience working virtually with Marrow to order my wedding ring! It's just what I wanted!
Sarah C.
Sept. 2023
Amazing service from start to finish! The attention to detail was over the top, but like in the best way, from the moment we walked in to the moment we opened the beautiful box. Even the packaging was extraordinary. They know what they're doing here! Thanks again for everything!
Tiffany S.
Sept. 2023
Hand-picked. Sustainably sourced.
We take gemstone sourcing very seriously. We work with fully vetted, trusted partners and our own internal QA team to bring you the most sustainable and unique stones.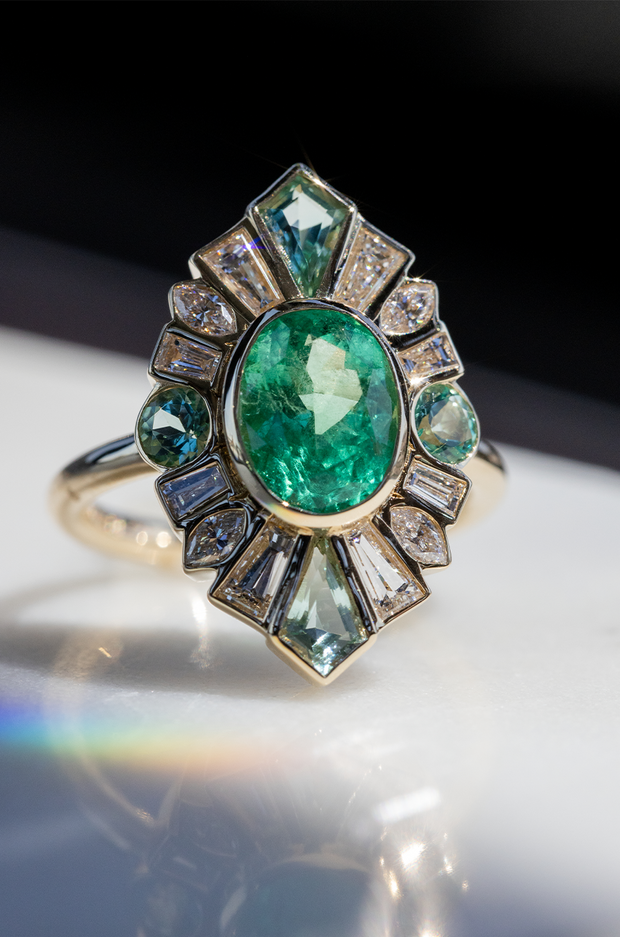 Marrow custom
From dream to design, we can't wait to work our magic and create a completely custom Marrow piece that's one-of-a-kind.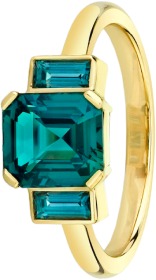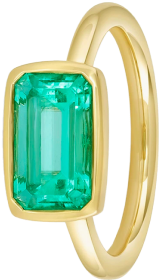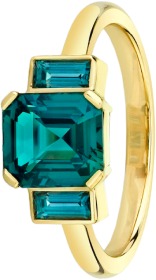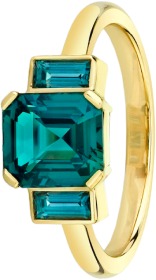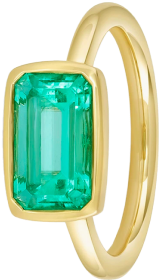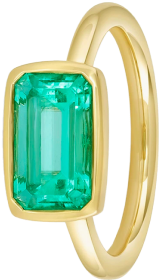 Weeks 1-2
Let's chat and ideate.
Weeks 2-4
From dream to design
Weeks 4-8
Make magic & celebrate