From the Blog…
A Guide to Engagement Rings: Signature Styles
Diamond alternatives
engagement rings
Unique engagement rings
white diamond
—
April 1, 2021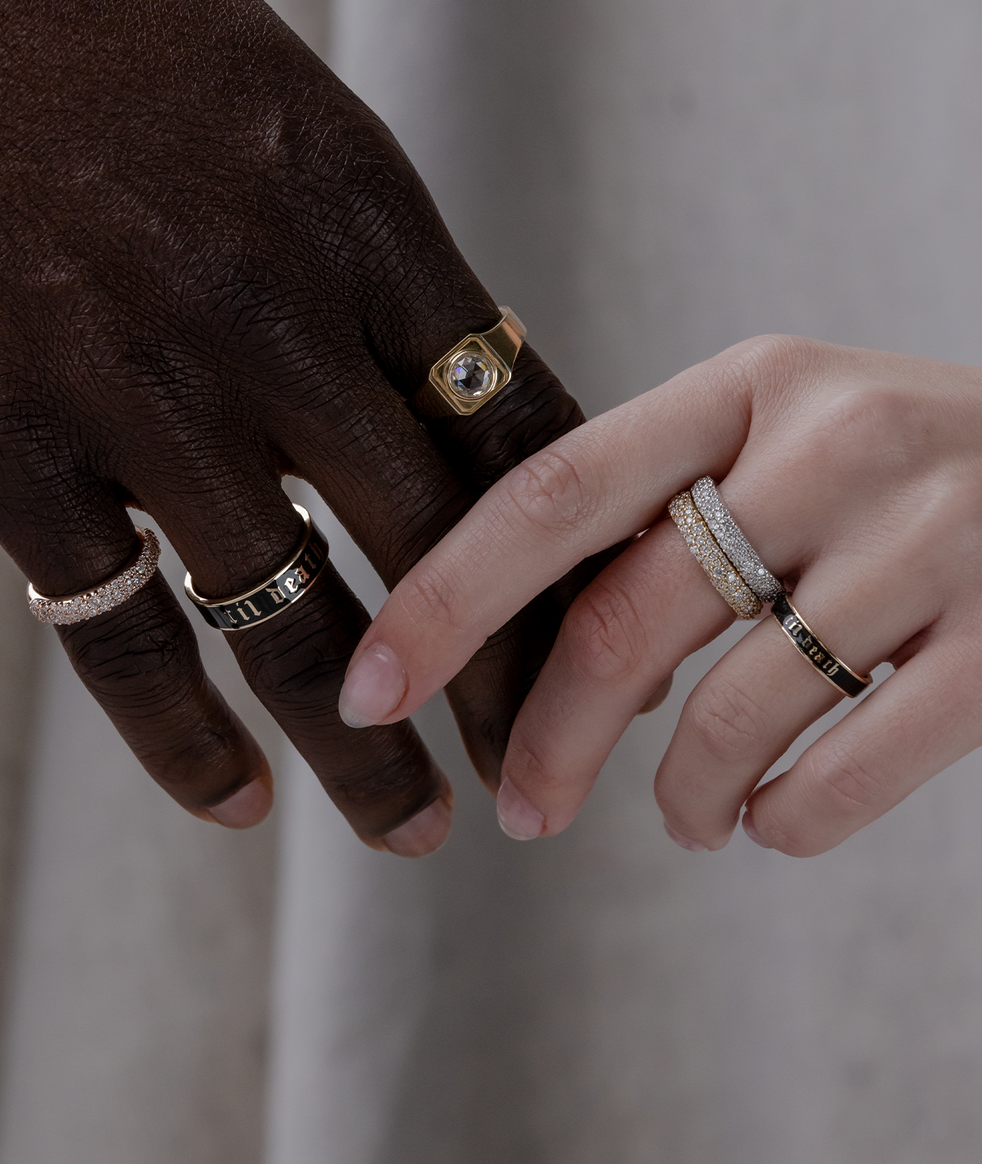 The engagement ring tradition began over 500 years ago, when Archduke Maximillian of Austria proposed with a white diamond to Mary of Burgundy in 1477. Fast forward to 2021… the tradition is still alive and, well, a little bit more wild—and we're totally here for it. 
Not only is the engagement ring a symbol of love and commitment, but it can also be a reflection of you and your personal style! From the classic solitaire and three-stone ring designs, to more nontraditional engagement rings like the Toi Et Moi and asymmetrical Spray settings, we love helping our brides-to-be find their perfect fit. 
Solitaire Engagement Rings
First up is the solitaire engagement ring; she's timeless, she's classic, and she's a pro at making your hand-selected stone the star of the show. We love the aspect of a treasure hunt in stone sourcing, and have an existing collection of both antique cut diamonds and stunning sapphires in every single color of the rainbow. Whatever stone shape or hue speaks to you, we're able to find it.
Camille and Helene are currently two of our most popular solitaire engagement ring styles for our babes who have their sights set on stacking. Straight, curved, triangle, and open shank bands... the combos are absolutely endless for a solitaire. 
Not 100% sure that you'll love a ballerina jacket or black diamond triangle in 10 or 15 years? That's the beauty of stacking—as your personal style changes, so can your bands. With 65+ bands  and counting, there's always something new to be on the lookout for.
Toi Et Moi Engagement Rings
We're obsessed with this unique engagement ring style that literally means, "you and me" in French. Two stones touching... two souls combining. The symbolism and effortlessly chic combinations is what makes these two-stone stunners one of our newest faves. You can mix shapes, colors, and prong-style to make your toi et moi engagement ring truly a one-of-a-kind engagement ring. 
Three-Stone Engagement Rings
The three-stone engagement ring is a Marrow Babe staple. After you (or your beau) select your center stone, your Marrow stylist will help find the perfect accent stones to complement your new beauty. You can choose from round brilliant white diamonds, antique cuts, trillions, pears, tapered baguettes—or create the illusion with little clusters on the side. 
The Jillian and Elspeth, two of our most popular three-stone lovelies, are no strangers when it comes to stacking. Named after our founder's original engagement ring setup, the Jillian pairs perfectly with our White and Black Diamond Headdress Jackets. 
Elspeth, on the other hand, lives for an Art Deco moment alongside our Aurora Nouveau  and Lady Louise bands. The options are almost as endless as the solitaire engagement rings.
Headdress Engagement Ring
Typically bezel set, the headdress engagement ring low-profile style adds the perfect pop of sparkle to any center stone. We highly recommend attaching a crown of White Diamonds or our Gemma Ballerina.
Adding a headdress to your one of a kind engagement ring will give you the full finger look without the full finger feel of a ton of rings stacked together. Plus, it's the perfect stepping stone if you're trying to keep your budget in mind while creating a full ballerina look over time. 
Ballerina Engagement Ring
Ballerina engagement rings are like the Marrow Fine equivalent of a snowflake. No two custom ballerinas are the same. Inspired by the art deco era, we've recreated a special Art Deco look that's fueled by adding a fan of custom cut tapered baguettes or mixing it up with alternating Fancy Shapes for a full-knuckle feel.
While this one-of-a-kind engagement ring style is not the most stacking friendly, she knows how to make a statement. Typically designed to be worn solo (since the ballerina design surrounding the center stone looks like stacked wedding bands), this look is one of our most luxurious yet timeless designs to date.
Cluster Concept Engagement Ring
For our babes that are a fan of whimsy, asymmetry and all things funky... our spray and cluster concept engagement rings are the perfect unique engagement ring styles for you! We love a good color story and these styles open up Pandora's box when it comes to the variety of shape and colors available to play with.
Go for a vintage look and keep the engagement ring vibe romantic with a cluster of antique cut diamonds or add the perfect pop of contrasting color to accent your bi-color sapphire oval. There's no wrong way to add a spray to your engagement ring! 
Get Started Designing
Ready to get started creating the engagement ring of your dreams? We're here to help! Schedule an appointment with a Marrow stylist to learn more about our custom process, stone sourcing, and more!
More from the journal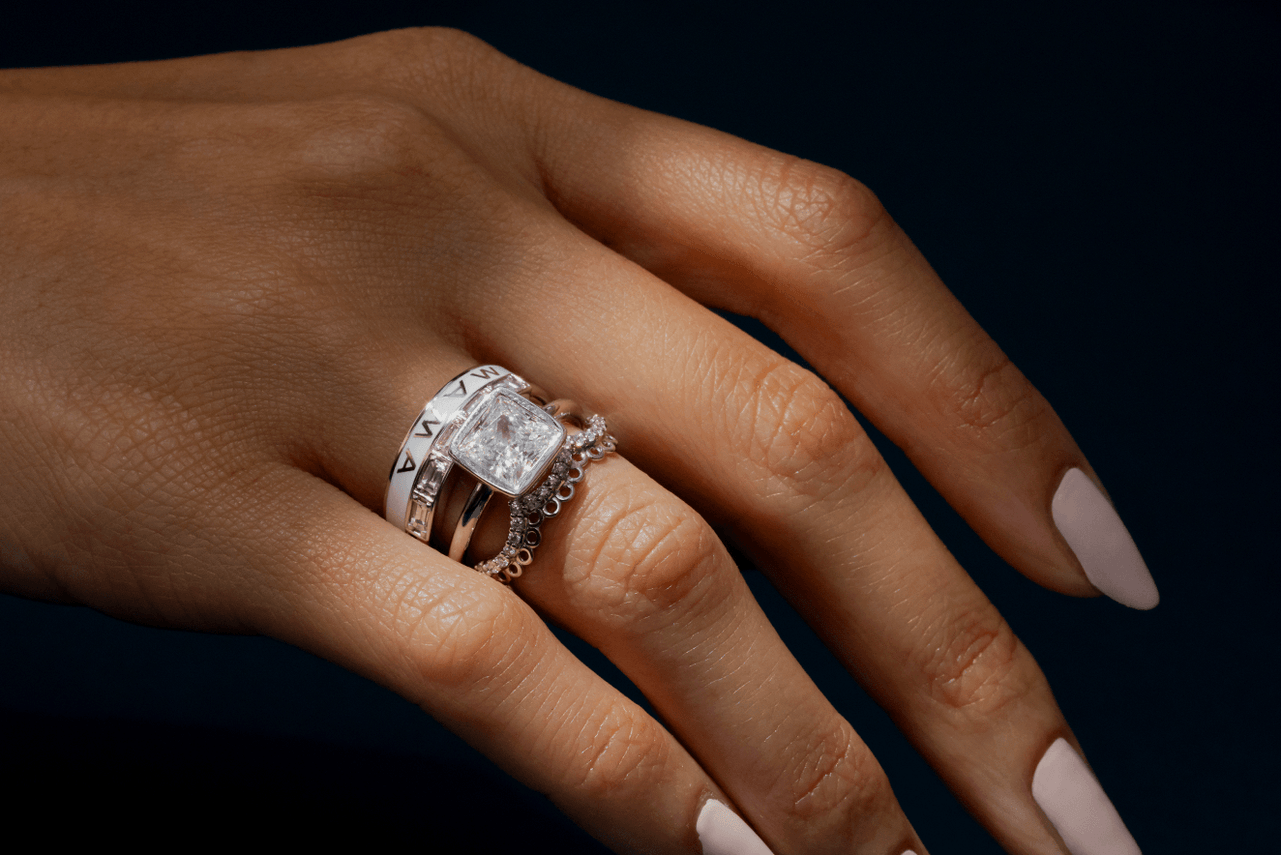 Not sure how to stack your engagement ring? Whether it's a princess cut, cushion, or emerald cut, the options are endlesss!
October 11, 2022
We're hitting the road and bringing all of our stacking goodness, custom design consultants, and one-of-a-kind pieces with us! Read more about what goes on at our trunk show pop-ups here!
February 25, 2020
From classic stacking bands to asymmetrical designs, we've rounded up some of our favorite ways to stack a round engagement rings. 
January 22, 2020